WPM Japan's Special Gyoza
We manufacture 40 variations of high quality and safe gyoza, strictly abiding the Food Safety Regulations of NSW Food Authority. Gyoza can be steamed, fried, deep-fried, but in Japan, it is most loved fried.

WPM Japan's Gyoza is a mixture of pork and vegetable filling, wrapped in specially made super-fine dumpling skin. The recommended cooking method is a combination of frying and steaming.
How to cook Pan-fried gyoza
1

2 spoons of oil into the pan on medium heat.

2

Place the gyoza on the pan.

3

Pour water up to 1/4 of the gyoza and place the lid.
4

Steam for 5-6 mins until the water evaporates.

5

Add another 2 spoons of oil on high heat.

6

Done! We recommend you try it with soy source and a little bit of vinegar.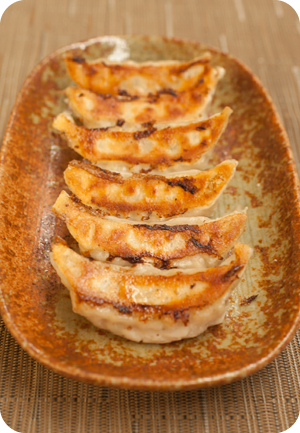 Hot to cook Deep-fried gyoza
Deep-fry the frozen gyoza in hot oil at 180° for 4 mins.